Associated with Higher Quality Wine
Increase in Sales Volume and Value
Cork Finished Wines Lead the Way
Natural Cork Closure Adds Value
Wine Drinkers in the U.S., Germany, and Australia Associate Wines with a Natural Cork Stopper to be of Significantly Higher Quality than Those with a Screw Cap
NAPA, Calif., March 9th, 2014 – According to a recent market research study on wine closures conducted by Tragon Corporation , 93 percent of U.S. wine consumers associate natural cork with higher quality wines, while only 11 percent of U.S. wine consumers believe wines sealed with a screw cap to be of high quality. Similar results were found in both Germany and Australia. In Germany, 93 percent of wine drinkers and 85 percent in Australia associate natural cork with higher quality wines. Participants in both the U.S. and Germany went even a step further to indicate that natural cork is a positive influence on their purchase decisions whereas screw caps and synthetic closures can deter a purchase.
The 2013 web-based survey was administered to 1,550 consumers throughout the U.S., Australia and Germany.  Participants included red and white wine drinkers, 80 percent of which consume wine at least once a week. The survey was comprised of 35 percent males and 65 percent females, who are the primary shoppers for their households and range in age from 25-65. The independent study was commissioned by Tragon with research partners SAM in Germany and AWRI in Australia. View the full report here.
Commenting on the results, Rebecca Bleibaum, Tragon's VP, Sensory and Consumer Insights, stated, "Consumers in all markets tested – U.S., Australia, and Germany — perceive wines with a natural cork closure to be of significantly higher quality than those with a screw cap."
Additional findings from the study include:
Wines with a cork stopper are perceived as being appropriate for all occasions, from an informal dinner at home to dining out for a special occasion.
Wines sealed with screw caps, on the other hand, especially in the U.S., are generally viewed as being of lower or moderate quality, and are viewed as less appropriate for a special occasion or dinner at a restaurant.
61 percent of the U.S respondents indicated that given the choice they would prefer to purchase wine with natural cork stoppers, while only three percent said they prefer to purchase wine with a screw cap.
In Germany, 72 percent of the respondents indicated that screw caps convey moderate to low quality. 
"The data shown for the U.S., Australia and German markets has consistent, and perhaps even unexpected, positive news for wineries that feature natural cork stoppers," commented Peter Weber, Executive Director of the Cork Quality Council.  "Since consumers overwhelmingly associate cork with high quality wines, having a cork stopper instead of a screw cap can make a critical difference when it comes to selling to the all-crucial, premium segment of the market that successful wineries around the world are targeting. It certainly makes sense for these wineries to promote their use of cork."
Wines Closed With Cork Saw Increase in Sales Volume and Value
WineBusiness.com | November 11, 2014
Nielsen released sales figures for the top 100 premium wine brands based solely on closure type, showing significant improvements for wines sealed with a natural cork.
Since the start of 2010, the volume market share for wines closed with cork rose 29 percent. Alternative closures also saw an increase, but of 9 percent in the same time period. While the numbers do not necessarily mean that consumers are making their purchase based solely on closure type, the data does show an improvement in sales of wine closed with cork.
Trend Analysis of Case Sales for Top 100 Premium Brands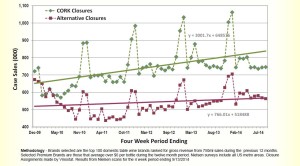 When breaking out case sales by closure type and top brands, those finished with a natural cork have seen significant improvement in volume moved.
The top 10 brands finished in natural cork performed better in both volume movement and sales compared with the top brands closed with synthetic. Eight of the top brands closed with cork saw an increase in case sales and nine saw an increase in revenue, averaging an 8.9 percent increase in volume and an 8.5 percent increase in value. For synthetically sealed brands, six of the top 10 brands saw a decrease in volume, however the average across all 10 remained an increase of 1.3 percent. In dollar sales, another six percent saw a drop in revenue, though as a group, it was up 1.1 percent.
However, the total cases sold in the 52 weeks leading to Sept. 13, 2014 were much higher for synthetic cork—about 5.57 million to natural cork's 4.3 million cases.
Sales by Price Point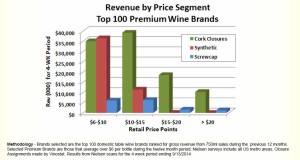 For the four week period ending Sept. 13, Nielsen figures show that cork closures out-performed synthetics and screw caps in the $10 to $15, $15 to $20 and the over $20 categories. Synthetic-closed wines saw a slightly higher revenue than its natural counterpart, with just over $35,000 in the $6 to $10 range.
Cork Finished Wines Lead the Way in Expanding Premium Wine Sales
The current two year trend for sales by closure type is based on sales of the Top 100 Premium Brands for the period ending 12/7/2013. The analysis shows a 34% positive slope for cork finished wines and a slope of 2% for wines with alternative closures among the Top 100 Premium Brands
This study is focused on premium domestic table wine, which for this purpose, is defined as wines packaged in 750ml bottles priced at $6 and up. Overall survey results indicate that the number of top brands using cork closures is growing, and that brands finished with cork have enjoyed more robust sales growth than brands finished with alternatives closures.
Case Sales – Total case sales for the Top 100 Premium Brands during the 4-week period were up 22% over the same period in 2009. Those wines finished in cork were up 39%. Wines with alternative closures show a 3% increase
Sales Revenue – Total sales revenue for the Top 100 Premium Brands during the 4-week period were up 27% over the same period in 2009. Growth in revenue from cork finished wines was 41%. Revenue from Top 100 Premium Brands using alternative closures were up 10%.
Pricing by Segment – For the 4-week period ending 12/07/2013, revenue for the Top 100 Premium Brands by price point shows that cork finished wines led all catagories. Cork finished wines were particularly dominent in wines priced over $10. 
Natural Cork Closure Adds Value to the Average Price of a Bottle and is a Convincing Sales Pitch
A trend analysis using data from AC Nielsen on the TOP 100-selling premium wine brands in the USA shows that since 2010, the year when the study began, there has been a significant 30% increase in the market share of wines sealed with natural cork compared to a 9% increase in wines bottled with alternative wine closures.
Annual brand sales of wines sealed with cork closures increased by 7% compared to the prior 12 months, almost doubling the overall growth of the TOP 100-selling premium wine brands.
These latest findings by Nielsen demonstrate the increasing role played by a natural cork closure in adding value to a bottle of wine. The average price of cork finished wines was $12.99, up $4.09 (+ 46%) as compared to wines with artificial closures.
| | | | | |
| --- | --- | --- | --- | --- |
| Median Price | 16/08/2014 | 17/08/2013 | Diff. | % Diff |
| Cork | $ 12.99 | $ 12.30 | $ 0.69 | 5.6% |
| Alternatives | $ 8.90 | $ 9.27 | $ -0,37 | – 4.0% |
Trend of the average selling price of the TOP 100 premium wine brands from August 2013 to August 2014
Carlos de Jesus, Corticeira Amorim's head of marketing and communication, said: "These are encouraging figures because the USA is not only a very important market for the cork industry but also an important trendsetter internationally. The U.S. is now the world's biggest wine market. These figures are even more relevant if we consider that the USA has a great potential for growth in the per capita consumption of wine."