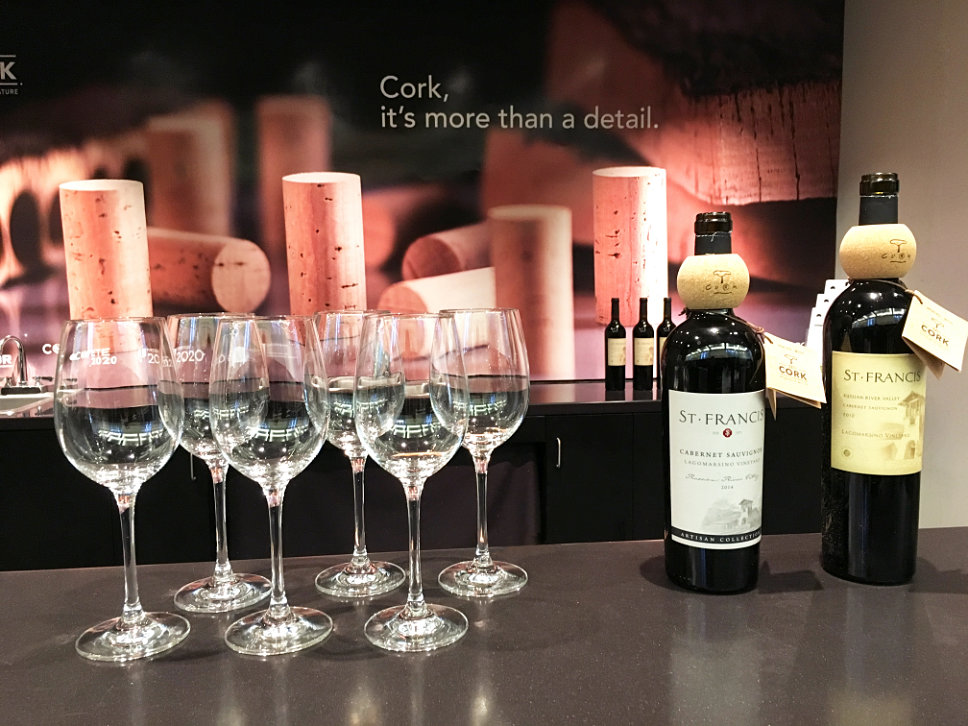 APCOR (the Portuguese Cork Association) and the Cork Quality Council attended the Wines & Vines Packaging Conference on August 16, 2017 – speaking to attendees about the attributes and advantages of natural cork, pouring wines finished with natural cork, and connecting with friends and figures from the wine industry.
At our booth in the Lobby Bar, guests enjoyed wines provided by cork partners Jordan Winery and St. Francis Winery. Many guests were particularly impressed with the Jordan 2009 Chardonnay that demonstrated how a wine can age so beautifully when closed with natural cork.
Attendees learned from Peter Weber of the Cork Quality Council about the improvements in cork production methods that have lowered the incidence of cork-induced TCA to less than 1%. They also learned how cork is the only truly sustainable and renewable choice for wine closures, despite misleading claims from competitors using bioplastics. Finally, they learned how natural cork allows wine to age by its consistent release of oxygen and its impermeable seal.
The Wines & Vines Packaging Conference was the second of many events that will be attended or sponsored by APCOR in 2017/2018, including Sommcon (July), Somm Summit (November), two Wine Faults Seminars (October, in New York and San Francisco), several American Viticultural Society seminars in November and December, Unified Grape Symposium in January, and several seminars for wine retailers organized in conjunction with the trade platform SevenFifty.