Test Shows 47% Percent Sales Benefit for Wines Identified as Using Natural Cork, 83% for Reds Only –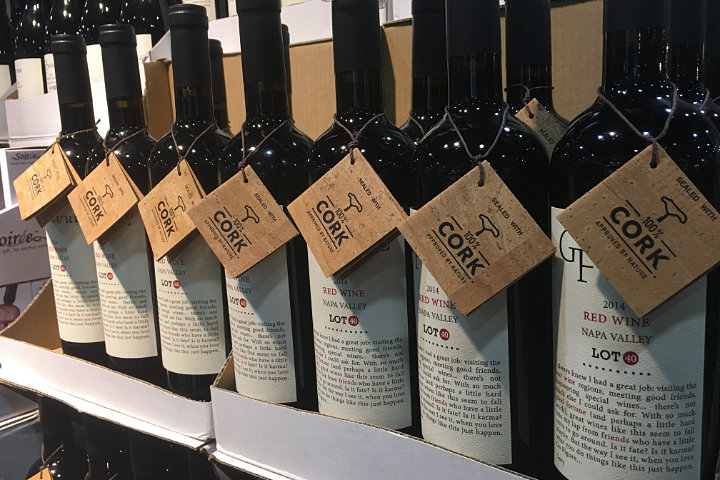 Does professed consumer preference for natural cork effect in-store purchase decisions? This question is difficult to answer because labels do not give information on closure type. What if information on closures was available to buyers? Would it effect wine sales? To answer this question, we used neck hangers to identify wines using natural cork and collected sales data in a test conducted over three weekends in August at three branches of Gary's Wine & Marketplace, one of the largest fine wine retailers in the New York metro area.
We chose two California wines – one white (Fisch Sauvignon Blanc, retail price of $17.99), and one red (Go Figure Lot 40 Red Blend, retail price of $19.99), and draped them with neck hangers for one weekend in each store. We then compared the sales results to three weekends before and after the test weekend. We looked at the sales in comparison to equivalent wines. For whites, we compared sales to all California Savignon Blancs, and for the reds, we compared sales to all California Cabernet and Meritage. Both the test wines and the comparisons were chosen at the suggestion of the store.
Sales of the red wine with neck hangers went from 1.13% of the category of wines sold to 2.07%, an increase of 83%. Sales of the white with neck hangers went from 5.52% of the category of wines sold to 6.18%, an increase of 12%. Collectively, the wines with neck hangers went from 1.90% (127 out of 6684) to 2.79% (59 out of 2114), an increase of 47%.
To make sure the data was consistent, the test wines were displayed in exactly the same way for four consecutive weekends throughout the test, and at exactly the same price. Nothing was changed except the wines were identified as using natural cork via the neck hanger. It should be noted that some of the comparison wines (particularly the whites due to the summer season) were on special promotion at certain points during the test, making the results even more impressive.
The results are consistent with data on consumer preferences for closures, and could prompt wineries to consider identifying natural cork as the closure on the label.
If you would like information on participating in future natural cork neck hanger promotions, please contact us.