The Portuguese Cork Association (APCOR) is pleased to provide our winery partners information about the unique properties and benefits of natural cork, from its production to how wineries can best use it to entice consumers to purchase their wines. Our educational program includes a range of events, seminars, promotional opportunities and more.
APCOR and our U.S. partner, the Cork Quality Council, have been at the forefront of promotional efforts behind natural cork wine closures and the overall use of cork for the past fifteen years. As a result, cork closures have seen significant growth in sales and market share. Currently, seven in ten bottles worldwide are finished with cork.
With our U.S. program kicking into high gear, we hope that you'll join us as a partner and continue the discussion about the benefits of natural cork. For more information, please visit 100percentcork.org.
1. CORK DOMINATES TOP 100 WINES
According to Wine Spectator's Top 100 Wines of 2016, cork closures seal 89% of the world's top wines. The survey also revealed that 97 percent of the American wines selected were sealed with cork closures, while 98 percent of the wines chosen from Italy, Spain, Portugal, Greece, and Israel, were sealed with cork closures.
"The findings from this survey simply reflect the fact that top winemakers all over the globe trust cork closures to preserve the quality and character of their wines," says Carlos de Jesus, Operational Director of the InterCork program of APCOR. "Cork closures have a long-standing history in the wine industry and have been scientifically and empirically proven to be the most effective sealing system for preserving the sensorial quality and neutrality of wines during the aging process. Going back centuries the world's greatest wines have always used cork, and it comes as no surprise that in 2016 cork remains the preferred choice of fine wine producers and connoisseurs alike."

2. UPCOMING EVENTS
APCOR's nation-wide campaign includes several initiatives that will be aimed at winemakers, restaurant trade (wine directors, sommeliers), retail trade and consumers.
Starting this July, APCOR will educate and host the trade with a focus on the benefits of using natural cork.
July 9–11
2017 SOMM Summit – International Wine & Spirits Symposium
August 16
Wines & Vines Packaging Conference
For more information on APCOR events, please visit: https://100percentcork.org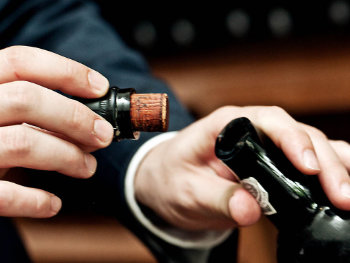 3. RETAIL PROMOTION FOR WINES WITH NATURAL CORK
Is your wine finished with natural cork? Consumers express a strong preference for natural cork over all other closures. However, bottle packaging makes it extremely difficult for consumers to identify which wines are sealed with cork. We've developed a promotional neck hanger-based retail campaign for natural cork-finished wines. For the first time, consumers be able to see exactly which wines on the shelf are finished with natural cork, aiding in their purchase decision.
Initially we will be working with retail stores in the New York City metro area with plans to add outlets from around the country. We will be promoting the wines on social media, through media relations, at key industry events and on the 100% Cork website.
The neck-hangers are a premium product made of cork paper, which has a soft leather-like quality. We are sure they will look great adorning your bottle on the shelf, promote consumer education and increase sales.  Several wineries are already on board. If you would like us to include your natural cork sealed wine in the neckhanger promotion, please contact us.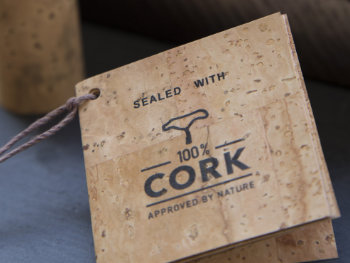 4. NIELSEN DATA SHOWS SALES STRENGTH OF CORK-SEALED WINES
According to Nielsen, total wine sales by case volume in the U.S. increased by 1.6% in the last year (ending April 22, 2017), while case volume of wines finished with cork increased by 4.2%, highlighting cork's continued and rising leadership in wine closures. Cork finished wines account for 61% of all wines in the U.S. by case volume, and 60% by dollar amount. One decade ago cork finished wines accounted for only 50% of the total wines in the U.S. market.
Cork's resurgence is not just an American phenomenon. Worldwide, cork's market share has been increasing over the last decade. In an interview in May, Gregory Viennois, Technical Director at Domaine Laroche, said, "The cork industry was on the defensive. The incredible work they did changed things… The cork quality increased drastically in the last 10 years."
Wineries everywhere agree: natural cork is the single best wine closure for wineries, for wine lovers and for the environment.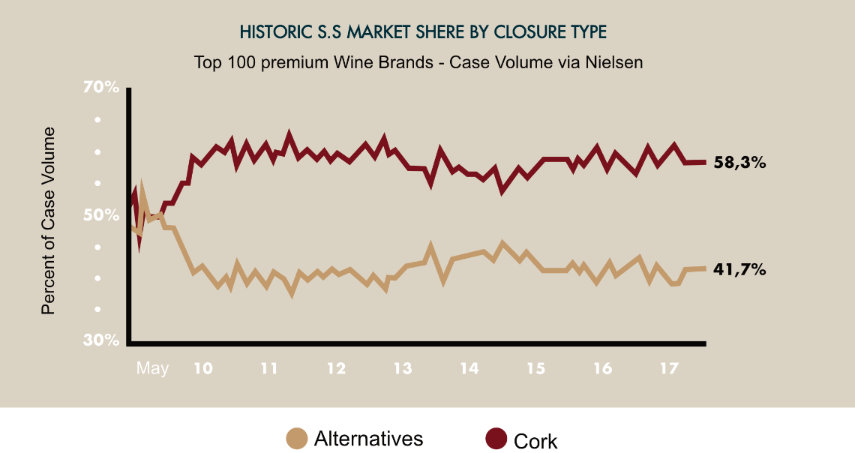 5. RECYCLE YOUR CORKS!
As wine producers and drinkers, we've all popped our fair share of corks, but just tossing them out shouldn't be the end of their lives. Cork is an 100 percent natural, and renewable resource that can be recycled into other products such as flooring, corkboards, insulation, apparel and even components for NASA space shuttles.
In Portugal, many cork factories use cork dust from the processing plant to co-generate electricity. Larger scraps are reserved for use in agglomerated cork production and virutally every piece of the harvested bark is utilized.
Here in the United States, two recycling programs have made important strides to improve the recycling process for wineries and consumers alike. Both ReCork and Cork Re-Harvest have opened numerous receiving facilities around the country that can accept deliveries direct from tasting rooms. They arrange for delivery to industrial cork facilities, where the wine corks are ground into small pieces for reassembly into cork sheets suitable for flooring, gaskets and a growing list of new products such as cork yoga blocks.
If you would like to recylce corks in your tasting room or facility, please contact us. We can provide receptacles and promotional material.