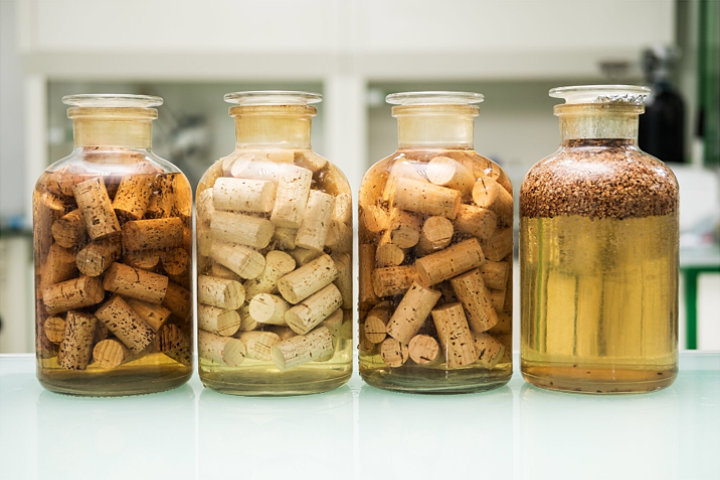 (This article excerpted from sevenfiftydaily.com, September 5, 2017, by Amanda Barnes "The Future of Cork Closures")
Cork trees have been harvested in the same way for centuries and that's unlikely to change; the processing of cork bark, however, has become practically unrecognizable in the last few years. The cork bark from Quercus suber trees goes through several selection processes—in the forest, in the processing plant, during stabilization, during steam treatment, and in the final cork production line—where it's separated into several different grades. Only 5 percent to 10 percent of the bark will make the final cut for single-piece wine corks. And that small percentage comes after approximately 43 years of life as a cork tree in the forest.
While some corks are still punched out into whole pieces by the traditional method, the rigorous testing of those corks now features X-rays, sensors (human, chemical, and robotic), and pressure tests to spot any faults that could lead to TCA contamination, as well as a combination of five technologies that steam, treat, and heat cork to remove all the volatile compounds.
The proof is in the pudding, as they say, and the rigorous testing, by the producers as well as within the market, is showing results. All the natural corks that arrive in the U.S. for wine production are analyzed on arrival and show a 95 percent reduction in TCA since 2002. This assurance does come at a price—the best tried-and-tested TCA-free whole-piece natural corks will cost upwards of 50 cents per unit.
"We had 10 to 20 really difficult years, where everyone said the cork industry would end," admits Antonio Amorim. "Screw caps shook the status quo of the industry, but we decided to stay in cork because the room for improvement was enormous. The focus of our research and development has been on TCA, and we will totally eliminate TCA in corks by 2020."
Considering that Amorim has already brought down its TCA screening levels from 10 ng/l in 2008 to just 0.5 ng/l in 2015 (a concentration considered undetectable by the Australian Wine Research Institute), that goal seems feasible.