Press Release | June 19, 2014
Cork Stopper is the preferred closure for Chinese wine consumers
According to the findings of a recent Chinese wine consumer survey, cork stopper is the preferred closure and is perceived as being closely associated with good quality of wine in China.
Aiming at shedding light on the perception, preferences and consumption behaviors on wines and closures, this online survey interviewed 2,001 respondents aged between 18 and 64 who reside in Beijing, Shanghai, Guangzhou and Chengdu. The survey was commissioned by the Portuguese Cork Association (APCOR) and carried out by CTR Market Research (www.ctrchina.cn).
On the part of wine closures, the respondents were asked to give their views and perceptions towards four types of closures, natural cork stopper, screw cap, synthetic stopper and glass stopper. A summary of the findings are as follows:
Natural cork stopper is generally perceived as being associated with good quality of wine – 85% of respondents believe that wines using cork stopper as closure are of high quality.
Eighty-four per cent of respondents said they would prefer wines with natural cork stopper as closure when purchasing wines. The percentages of such preference on screw cap, glass stopper and synthetic stopper are 36%, 11% and 8% respectively.
Natural cork stopper has the highest degree of awareness among Chinese wine consumers – 89% of respondents know about cork stopper. The awareness towards screw cap, synthetic stopper and glass stopper are 61%, 34% and 26% respectively.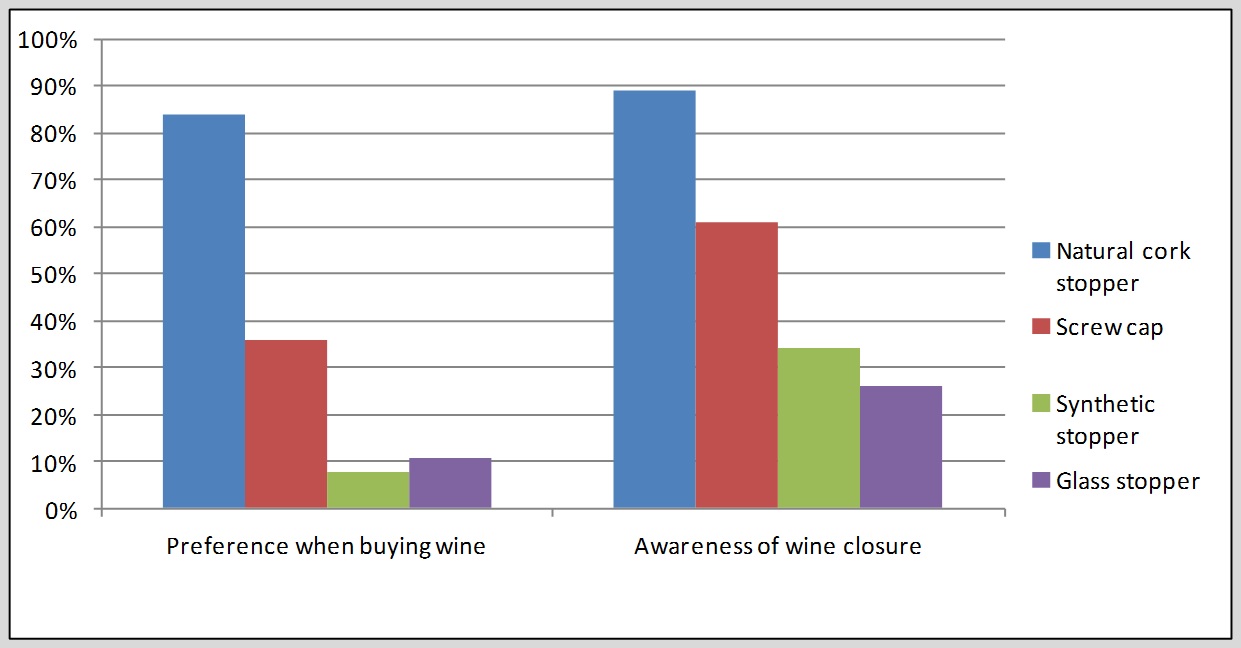 "The findings of our survey show that natural cork stopper is the most well known and regarded closure amongst Chinese wine consumers. We could also see a clear roadmap of its high awareness and positive perception leading to a strong tendency of advocacy," said Su Ben-Cai, Research Director of CR Department of CTR Market Research.
"Naturally we are very pleased with the findings, albeit these do not come as a big surprise as cork stopper currently occupies more than 70% of the global closure market. We still have a lot of work going forward as our vision is to keep natural cork stopper as the closure of choice for both the current and future generations of wine consumers in this market. This is crucial as China is now the no.1 red wine market worldwide," said Carlos De Jesus, Global Communications Director of APCOR.
The findings of this survey in China echoed a similar market research in international markets which was published earlier this year.  According tothe market research study on wine closures conducted byTragon Corporation, 93 % of U.S. wine consumers associate natural cork with higher quality wines, while only 11 % of U.S. wine consumers believe wines sealed with a screw cap to be of high quality.
Similar results were found in Spain, where 92% consumers prefer cork stoppers and for 86% it preserves the propertiesof the wine better. 85% of Italian wine lovers consider natural cork the best closure to assure the quality of a wine and for 84% of French lovers, natural cork is a sign of quality.
About CTR Market Research
CTR Market Research is a leading market information and insight provider in China. A joint venture company between CITVC and Kantar Group, one of the world's largest market research, insight and consultancy networks, the company is committed to be the preferred research partner and market leader in delivering value-added marketing information and insights in China, facilitating its clients to make optimal business decisions.
About Cork
Natural cork has been the preferred wine closure for centuries.  It remains the best closure for the protection of wine and is one of the world's most sustainable products. Natural and recyclable, its use provides an economic incentive to preserve vast cork oak forests in the Mediterranean Basin that trap greenhouse gases, prevent desertification and provide habitat for hundreds of plant and animal species.
About the Portuguese Cork Association
APCOR- the Portuguese Cork Association – is the only national trade association representing the cork processing industry. It was founded in 1956, in the north of Portugal, in Santa Maria de Lamas, Municipality of Santa Maria da Feira, at the heart of the cork industry. APCOR currently has over 270 member companies which together account for 80 per cent of the national cork production and 85 per cent of cork exports. These companies operate in all of the industries sub-sectors-preparation, processing and marketing.
The objectives of APCOR are to promote and provide value to cork and its products, as well as represent and support the industry in various fields.
More information can be found at http://www.realcork.org/
Please visit the Chinese website of APCOR via http://www.mygreencork.com/