By Cyril Penn, WineBusiness.com | Posted: November 24, 2014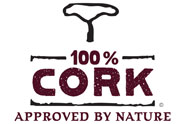 Cork suppliers are launching a multi-media campaign to raise awareness of the benefits of natural cork wine closures. The initiative, which will involve radio spots and digital advertising, marks the first time the 100% Cork campaign has joined together with wineries to advertise on their behalf to raise awareness about cork.
Wineries involved with the latest phase of the 100 Percent Cork campaign include Bogle Vineyards, Francis Ford Coppola Winery, Grgich Hills Estate, Jordan Vineyard & Winery, and Rutherford Ranch Winery.
"Promoting the use of cork is an untapped marketing advantage for the many wineries that use cork but don't draw attention to it," says Peter Weber, Executive Director of the Cork Quality Council. "Vintners make it very clear to consumers when their wine is estate produced or organically grown. It only makes sense that wineries would also want to draw attention to their use of cork."
Radio advertisements will feature the message "Any Wine Worth Its Grapes Deserves Natural Cork," and digital ads will ask: "We're popping the question this holiday: Why do people overwhelmingly prefer wines with natural cork?" The campaign will run during the holiday wine-buying season from No. 24 through Dec. 31.
The holiday campaign will include advertising on four of the San Francisco Bay Area's top radio stations as well as digital advertising designed to draw traffic to 100% Cork's web site and Facebook page. Spots featured on 99.7 KMVQ-FM, 96.5 KOIT-FM, 101.3 KIOI-FM, and 97.3 KLLC-FM will say:
"There's no shortage of wines to give and enjoy this holiday season. Here's a tip: Always look for wines finished with natural cork. In a sea of gift-giving wine choices, real cork is one sure sign of quality and certain signature of the winemaker's art. It's better for wine and it's sustainably harvested. Remember: Any wine worth its grapes deserves natural cork. Look for leading wineries like [a participating winery's name] that know – it's the way wine was meant to be. More at 100PercentCork.org
During the past three years, the cork industry has been touting scan data for the top 100 premium wine brands based solely on closure type, showing significant improvements in sales for wines sealed with a natural cork. Since the start of 2010, says the the campaign, the market share by volume for wines closed with cork rose 29 percent while alternative closures saw an increase of 9 percent.
The campaign also touts surveys concluding consumers prefer wines sealed with cork by a wide margin – especially when giving wine as a gift during the holidays, including Tragon's recent findings that 93% of U.S. wine consumers associate natural cork with higher quality wines, while 11 percent believe wines sealed with a screw cap to be of high quality.