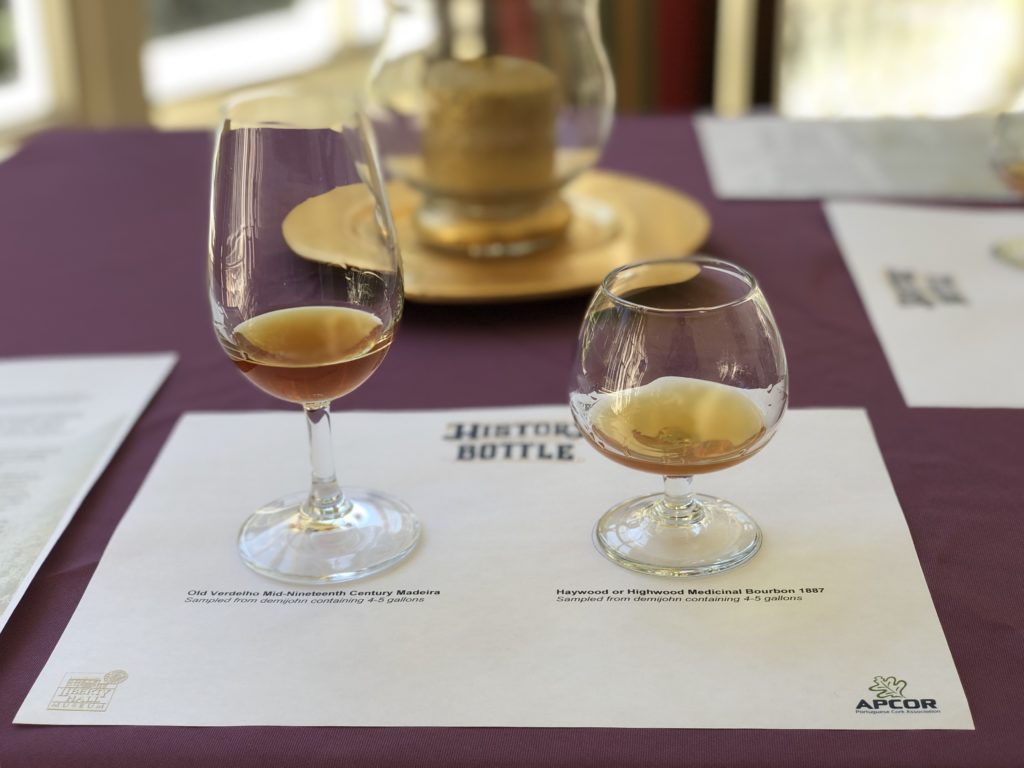 The Liberty Hall Museum at Kean University and The Portuguese Cork Association (APCOR) are proud to announce the opening of "History in a Bottle," a permanent exhibit that showcases American history through an unparalleled collection of wines and spirits that date as far back as 1796. Nearly every bottle on display and in the Liberty Hall cellar has been preserved by natural cork, allowing for museum visitors to experience a living history of the United States through the centuries.
This comprehensive collection includes ancient Madeira from the early days of the American Republic, Civil War-era Bourbon, fine wine imports, Prohibition-era spirits, and early American wines from California, making this exhibit the first of its kind in the United States. The exhibit also offers visitors a glimpse into the science and history of natural cork and its modern applications.
"Our mission is to offer all museum visitors a journey through time as we recreate American history through the experiences of our iconic family. This exhibition goes back hundreds of years and alcohol evidently played an important role in the beginning of our country," says Mr. John Kean Sr., President of Liberty Hall Museum. "This is a different way to look at the history of the United States of America. We typically rely on paper documents, artifacts, letters, but liquor is just as important."
The wines and spirits in this exhibition were collected by the Livingston and Kean families over the course of nearly two centuries. Approximately 40 demijohns, large, bulbous bottles that hold 5 gallons, and six cases of Madeira dating back to the 18th and 19th centuries were found along with over 300 bottles of fine wines and spirits during a refurbishment project. Several bottles of Madeira included in the collection were imported in 1796 and were possibly purchased to celebrate the election of President John Adams. They were ordered by Robert Lenox, Esq., a banker and financier who was known to import Madeira in barrels and demijohns, and then bottle and label the Madeira with handwritten tags.
After their discovery, several bottles in this collection were opened and tasted, and found to be in perfect condition, preserved from the time of the early American republic until today in glass bottles with natural cork stoppers. In December 2018, a portion of the collection was auctioned by Christie's in New York City. The highest price realized was for a demijohn of 1846 Madeira that sold for $39,000. For additional background on the discovery and Christie's sale, visit the online feature Discovered: One of the largest collections of early Madeira in the United States.
"We are honored to be part of this once-in-a-lifetime opportunity to celebrate the historical intersection of Portuguese and American cultures. The wines and spirits that are exhibited in the museum are not just relics – inside is living history," says João Rui Ferreira, President of APCOR. "The fact that we can taste today what our forebearers tasted over 200 years ago is amazing, and we are proud that natural cork has played such an important role in preserving wine and making this miracle possible."
Liberty Hall Museum is open to visitors Tuesday through Friday, 10am to 4pm, and Saturdays from 10am to 3pm. Tours leave every hour; the last tour leaves the hour prior to closing. For more information, please visit www.kean.edu/libertyhall/ or call the museum office at 908.527.0400.