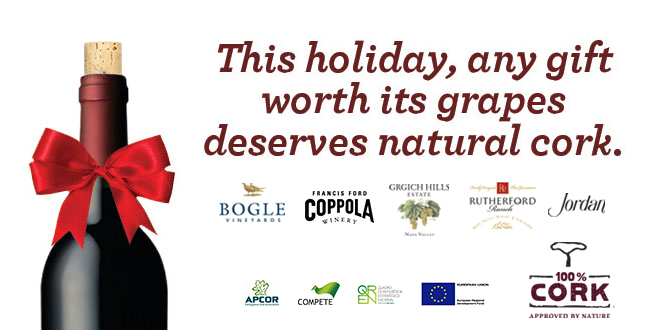 Holiday Campaign in California Wine Region Promotes Benefits of Natural Cork
SAN FRANCISCO, Nov. 24, 2014 /PRNewswire/ — 100% Cork and a group of leading Northern California wineries today announced the launch of a novel multi-media campaign to raise awareness about the benefits of natural cork wine closures and demonstrate to other wineries the value of promoting their use of cork.  The wineries are Bogle Vineyards, Francis Ford Coppola Winery, Grgich Hills Estate, Jordan Vineyard & Winery, and Rutherford Ranch Winery.
"We use cork because it's better for our wines and is consistent with our commitment to sustainability," the wineries said in a joint statement.  "We also recognize and value the fact that consumers associate cork with higher quality wines, which is another important reason we use the closure and are proud to be part of this campaign."
The holiday campaign will include advertising on four of the San Francisco Bay Area's top radio stations as well as digital advertising designed to draw traffic to 100% Cork's web site and Facebook page.  With nearly 100,000 fans, 100% Cork has one of the wine industry's larger social media sites, which an increasing number of wine drinkers turn to for information about cork and wine.
The campaign will highlight cork's reputation for quality and its environmental advantages while making consumers conscious of their wine purchasing decisions and driving awareness of the participating wineries, all of which use cork to finish all or a vast majority of their wines.
"Promoting the use of cork is an untapped marketing advantage for the many wineries that use cork but don't draw attention to it," said Peter Weber, Executive Director of the Cork Quality Council in Napa, CA. "Vintners make it very clear to consumers when their wine is estate produced or organically grown.  It only makes sense that wineries would also want to draw attention to their use of cork."
The radio advertisements will feature the message "Any Wine Worth Its Grapes Deserves Natural Cork," and digital ads will ask: "We're popping the question this holiday: Why do people overwhelmingly prefer wines with natural cork?"  The campaign will run during the critical holiday wine-buying season from Nov. 24 through Dec. 31.
"I will be interested to see if the campaign has a positive influence on consumer behavior," said Ben Pearson, wine judge for the San Francisco Chronicle and wine buyer for the renowned Bottle Barn in Santa Rosa.  "If it does, it will further strengthen the argument for wineries to use cork and to alert their customers to their choice of closure."
Numerous surveys have concluded that consumers prefer wines sealed with cork by a wide margin – especially when giving wine as a gift during the holidays.  For example, a survey by Tragon in June 2014 found that 93% of U.S. wine consumers associate natural cork with higher quality wines, while only 11 percent believe wines sealed with a screw cap to be of high quality.  Yet few wineries draw attention to their choice of closure.
"We are honored to be joining with these leading wineries to jointly convey our preference for natural cork," Weber said.  "Together, we can raise awareness about the benefits of cork and provide a service to consumers who want to be confident that the wine they purchase is sealed with the genuine article."
The radio advertisements will be featured on 99.7 KMVQ-FM, 96.5 KOIT-FM, 101.3 KIOI-FM, and 97.3 KLLC-FM.  The ads will say:  "There's no shortage of wines to give and enjoy this holiday season. Here's a tip:  Always look for wines finished with natural cork. In a sea of gift-giving wine choices, real cork is one sure sign of quality and certain signature of the winemaker's art. It's better for wine and it's sustainably harvested. Remember: Any wine worth its grapes deserves natural cork. Look for leading wineries like [a participating winery's name] that know – it's the way wine was meant to be."