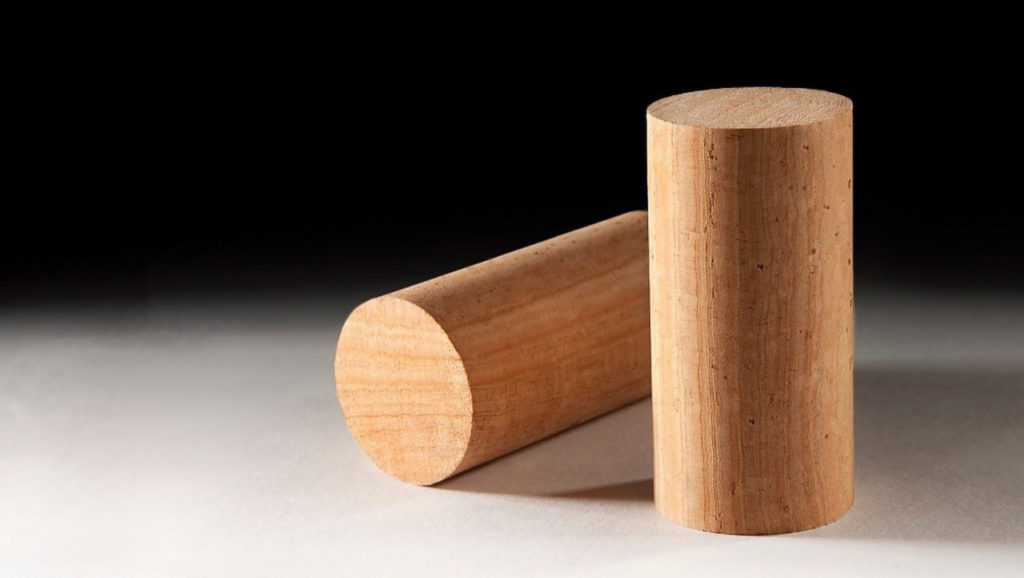 Survey shows 95% of 2021 top 100 selling wines in China use cork stopper –
For years we have learned that the majority of wine trade, professionals and consumers in China have an exceptionally strong preference towards cork stopper rather than other types of closures. But what is the magnitude of such deep-seated advocacy? According to the findings of a recent survey on the 2021 top 100 selling wines in China, such market preference on cork stopper is tremendous and it trumps other closures with an overwhelming margin.
Specifically, 95 out of these top 100 selling wines use cork stopper as closure.
This survey is commissioned by the Portuguese Cork Association (APCOR) based on the data garnered and provided by market research firm NielsenIQ. The top 100 selling wines have been identified in accordance with the 2021 retail sales figures of wines garnered from hypermarkets, supermarkets and minimarkets in 24 Chinese cities. These cities include Beijing, Shanghai, Chengdu, Guangzhou, Hefei, Wuhan, Changsha, Nanjing, Hangzhou, Chongqing, Shenyang, Harbin, Kunming, Jinan, Tianjin, Shenzhen, Dalian, Fuzhou, Xi'an, Wuxi, Suzhou, Ningbo, Dongguan and Xiamen. Representative from NielsenIQ was on site and monitored the verification process of checking the closures of these 100 top selling wines.
The composition of these 100 wines are as follows: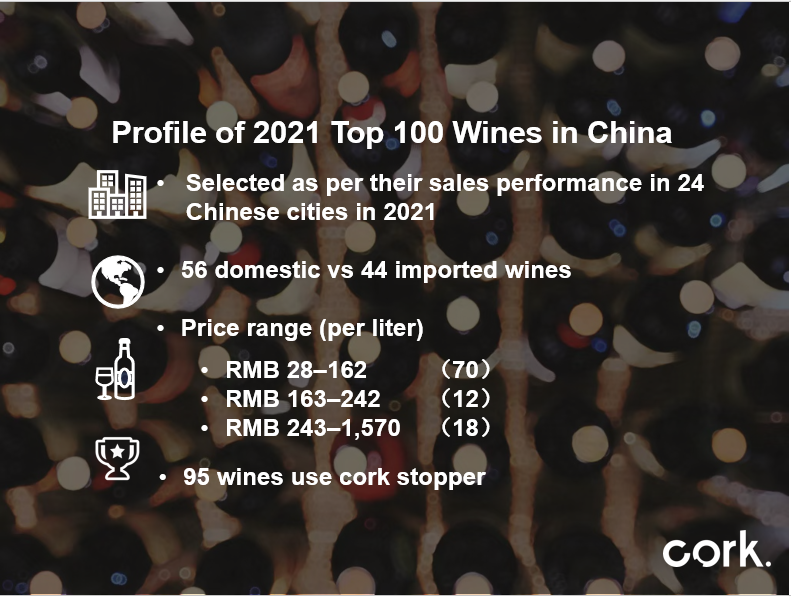 The survey findings show that cork stopper is Chinese market's undisputed "wine closure of choice" by all accounts:
95 out of the top 100 wines use cork stopper. These 95 wines have an average price per liter of RMB208.51 (USD32.6) comparing with RMB 86.56 (USD13.5) of the five sealed with artificial closures. The average price per liter of these 100 wines is RMB 202.4 (USD 31.6).
100% of the 56 domestic wines were sealed with cork closure, while 39 of 44 imported wines (89%) were sealed with cork closure.
In terms of sales volume, all the 21 best sellers among these 100 wines use cork stopper, artificial closure is used not until the 22nd.
In terms of price per liter, all the 10 wines with the highest prices in this survey are closed by cork stopper.
"In view of the breadth and depth of retail outlets and geographic coverage for collecting the sales figures, it is fair to say that these top 100 selling wines vividly reflect their popularity in the China market, as well as the market's preferences on wine closures," said João Rui Ferreira, Vice Chairman of APCOR.
Commenting on the survey findings, he said: "We are very pleased and excited about such strong preference of cork stopper in China. While the survey could only provide a factual description of the top 100 selling wines' adoption of various types of closures but does not tell us why so, I think we know the reasons behind – Cork stopper is a sign of quality wine, an important element of wine culture and its innate sustainability advocacy finetunes with next generation consumers' sentiment. I would say our Chinese stakeholders love cork stopper because of 'all of the above'!"
Studies show that female and millennial drinkers* are rising in China. A key feature of these groups of consumers is their environment advocacy, and the sustainability advantage of cork stopper perfectly fits with this orientation. Natural cork closures have a negative carbon balance, according to recent studies conducted by three of the world's largest auditing companies. A single stopper has a balance of up to – 309 grams of CO2; numbers for sparkling wine stoppers go even higher at up to – 589 grams.
APCOR had conducted a similar closure survey towards the top 100 selling wines in China in 2016 which was also based on the China market data provided by Nielsen. The adoption of cork stopper among these 100 wines was also 95%. The 95 wines using cork stopper had an average price per liter of RMB138.4 (USD21.6), while the remaining five with artificial closures had an average of RMB104.24 (USD16.3).
"We hope that in the next top 100 wines survey in China, wines using cork stopper will reach even a higher mark," said João Rui Ferreira.
*A new study by Chinese research company CBNData finds that young Chinese consumers born in 1990s are the growth engine for the country's online drinks sales, and young female drinkers in fact are drinking the bulk of it.
https://vino-joy.com/2020/09/11/study-finds-chinese-millennials-fueling-online-drinks-sales/