SAN FRANCISCO, Feb. 19, 2015 | PRNewswire
Five leading wineries that participated in a holiday advertising campaign highlighting their use of natural cork closures experienced an increase in sales, while average sales for a comparator group fell, 100% Cork announced today.
"These positive results reinforce market surveys showing that consumers prefer wines sealed with genuine cork – especially when wineries draw attention to their use of cork," said Peter Weber, executive director of the Cork Quality Council, a sponsor of 100% Cork.  "The results also suggest there is tremendous value in wineries promoting their use of cork."
When compared to the same period in 2013,  the combined average case sales for the five wineries increased 6.4 percent in the San Francisco Metropolitan Area, according to results from The Nielsen Co.  In contrast, the sales of cases of wine during the same period and in the same region for the top 200 brands slumped 5 percent.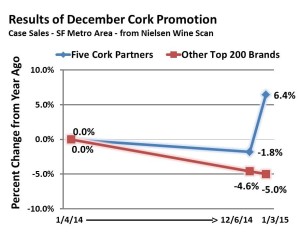 The wineries participating in the campaign, which was developed in partnership between the wineres and 100% Cork, included Bogle Vineyards, Francis Ford Coppola Winery, Grgich Hills Estate, Jordan Vineyard & Winery, and Rutherford Ranch Winery. Each of the wineries was featured in advertising on four of the San Francisco Bay Area's top radio stations as well as digital advertising designed to draw traffic to 100% Cork's 100,000+-strong Facebook page. The campaign ran from Nov. 24 through Jan. 4, and generated nearly 21 million impressions among radio listeners and Facebook fans.
The 100% Cork Facebook page asked the question, "Why do people overwhelmingly prefer wines with natural cork?" The answers were solidly in favor of cork and included the following responses:
"You need to ask? Because that's a real bottle of wine."
"Tradition. History. Romance. Respect."
"For the whole experience, beginning to end."
"It makes the wine more unique and it tastes better."
"It's the grace of the process. It's like the sultry kiss before intimacy. Anybody can 'screw' but it takes some foreplay to discover the art of the process."
Numerous surveys have concluded that consumers prefer wines sealed with cork by a wide margin.  For example, a survey by Tragon in June 2014 found that 93% of U.S. wine consumers associate natural cork with higher quality wines, while only 11 percent believe wines sealed with a screw cap to be of high quality.  Yet few wineries draw attention to their choice of closure.
Read full press release here.